IT has a significant use globally, and almost all businesses need to use information technology to survive and operate in the industry. With the passage of time and the advancement of technology and innovation, the need for skilled professionals with a wide range of expertise and experience has increased dramatically. Outsourcing IT services is a strategic option. Organizations will find many solutions to meet their daily needs, reduce many of their responsibilities and focus on their jobs. This article will discuss the advantages and disadvantages of outsourcing IT services and ways to eliminate its disadvantages.
What is IT Outsourcing?
One of the concepts that have received a lot of attention in the present era is outsourcing IT services. In fact, by outsourcing IT, businesses entrust managing this part of the company's tasks, which is a valuable and sensitive part, to the company providing IT services. They provide themselves with the provision of computer systems, software and various hardware. And they leave the IT team and at the same time have access to the best and latest IT technologies.
Outsourcing can be considered as a kind of outsourcing. In a world where managers of companies and organizations put customer orientation at the forefront, focusing on the organization's core business on the one hand and the full and appropriate use of up-to-date information technologies leads them to IT outsourcing.
What are the advantages and disadvantages of information outsourcing?
There are many benefits to encouraging business owners to use IT outsourcing. Some of these benefits include:
1. Access to the latest technology
IT outsourcing allows you to have professional IT professionals who manage your business outside of your company without needing an in-company expert team who must be constantly trained. They are also aware of the latest IT technology. Plus, you can use it without buying better equipment.
2. Cost savings
One of the biggest benefits of outsourcing is reducing costs because outsourcing services can save you a lot of money, such as complex systems and various software and specialized staff and multiple infrastructures in this field. Also, outsourcing will eliminate the costs of updating the systems, troubleshooting and their problems, and periodically training IT staff. Also, you get rid of costs associated with hiring professional staff such as training, insurance, salaries, pensions.
3. Flexibility
Managing IT services from within limits you from using the company's resources, but you will have multiple and advanced resources by outsourcing. Employees are also scalable, and you can recruit the required number or a small number of employees. You can also reduce your staff after the project is completed. Also, you get rid of hiring staff and its hassles.
4. Job security and reduction of employee burnout
With IT outsourcing, you will no longer have to worry about employees becoming exhausted or lagging. And you are confident that you have a capable force with maximum IT knowledge. Therefore, you move along with your competitors to attract customers and your career advancement, and you will not allow systems to infiltrate or break down.
5. Specialized staff
By working with companies that provide outsourcing services, you are hiring professional staff who are confident in their skills and confident that they will perform the required activities in the best possible way.
6.Focus more on the core business
The IT department of any business needs strong management and management. Also, with the advancement of technologies, it needs to be updated to provide proper performance. It also threatens the spectrum of system failures or cyber-attacks and malware.
When you outsource IT services, your worries and focus on this area will be eliminated, allowing you to focus all your creativity and attention on your job while doing the right thing. You are comfortable and confident in IT affairs and updating its services.
7. Use of internal resources for other purposes
There are various resources in every business and company that resources can use better by outsourcing these multiple resources. As a result, it will lead to the growth and promotion of business in various fields. For example, a company can use these resources to bring new products to market.
8. Access to valuable capabilities
IT expert group that is familiar with the latest technologies and various dangers allows you to benefit from a professional and alert team. As a result, your return on investment will increase. More interestingly, the service is provided to you on a 24-hour basis, which is impossible for an internal team. in case of any problem at any time of the day or night, the outsourcing company will take immediate action and perform the repair restart.
9. Reduce risk
An IT service provider's knowledge and experience greatly eliminate the risk of making the wrong and costly decision. Because you work with professionals who know the dangers and disadvantages of cyberattacks or the misuse of the Internet, this will save your business and eliminate the risk of IT mistakes. And the damage to many companies goes away. Risk-sharing takes place. And because they are professionals, they better plan for risk reduction factors.
10. Better use of capital
When business sub-activities are eliminated, you will invest in products to attract and increase customer satisfaction or expand your business.
11. More security
By outsourcing, you get more security services such as backup, data monitoring, and protection.
These companies provide the essential software for your cybersecurity and have the most up-to-date equipment for monitoring your system. So you will be exempt from investing in cybersecurity infrastructure.
12. More focus
By outsourcing companies, they still need IT, but using outsourcing is like a powerful helper to your company's IT. They can focus on their tasks; for example, the company should work on cybersecurity, and the outsourcing partner should manage the infrastructure. This depends on the choice of outsourced management services.
13. Faster development performance
If you outsource IT, you will achieve the desired results much faster. You no longer need to spend particular time managing these things. Because a professional team does the work for you around the clock and you will achieve the desired situation in the fastest and best way.
14.Easier working relationships
Communicating with many employees and with different spirits can be a headache for you. Still, outsourcing such problems will reduce, and you can lower working relationships and contractually. You will calmly focus on your job.
15. Security of mind
By entrusting work to skilled people, you can rest assured that IT jobs are well managed and do not pose cyber threats and crashes to your business system. This is a critical point in your job satisfaction and career advancement.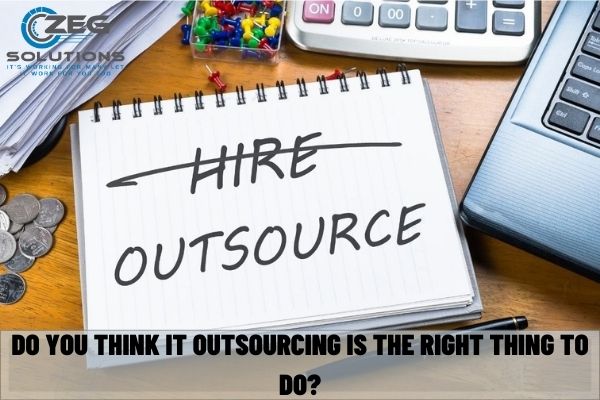 Disadvantages of Outsourcing
Despite the significant benefits of outsourcing IT services, it is essential to note that it also has its downsides.
The most prominent disadvantages are:
1. Communication disruption and risk of service interruption
Outsourcing can lead to severe risks and disruptions to communication. Prolonged call time creates problems because the slower the outsourced response rate, the more affected the service.
For example, if you outsource cybersecurity services, communication disruptions can damage your business and spread other problems. Working with a company that oversees exactly this is good help.
2. Reduce the amount of control
In outsourcing IT services, you lose control. Unfortunately, the service provider may not be doing its job well and harming your job, and since IT is not under your control, there is nothing you can do to improve the situation. If you do not choose a suitable and reliable service vendor, you may be forced to invest in equipment or software that is not required at that stage.
Therefore, carefully outsource and carefully review the records of the provider company to enjoy its many benefits.
3. Threats to security and the issue of trust
The various potential risks of using IT outsourcing can threaten your company. Your company trusts a service provider and provides him with multiple matters and information. Protect this data
It is vital for you that a provider may not provide adequate protection. They may also use it intentionally or incorrectly.
Before outsourcing, you can ensure that the outsourcing company is working correctly and accurately to avoid these issues.
4. Employee dissatisfaction
Outsourcing can have a detrimental effect on your employees' morale because it may make employees worry about losing their jobs. People want to be safe, but if their work is available, they may become dissatisfied and discouraged from doing their job well. Domestic employees may also notice higher salaries of foreign employees, and their motivation and productivity may decrease. You can solve this problem by understanding their frustration and fear and establishing a positive relationship.
5. Reduce the amount of quality
Suppose the outsourcing company does not use skilled and competent people. In that case, it may negatively affect the quality of your work and not help your business grow, and prevent you from achieving your goals.
Of course, you can solve this problem with the help of an expert. Choosing a suitable outsourcing company that has experts will also help you prevent this problem.
6. Lack of internal medicine specialist
The service company employees do not have practical experience, and on the other hand, you do not have the chance to spread the knowledge gained in the new project among your employees.
Of course, you can solve this by choosing the right outsourcing company. And let your employees learn the information before the end of the collaboration.
7. Hidden costs
Although outsourcing comes with the great promise of cost savings, outsourcing costs are different, and you can not know for sure. Prices vary depending on the amount and difficulty of the work.
But, you can manage this by specifying the same tasks. If you do not study the contracts of these service companies well, you may face unexpected costs.
The right solution is to study the contracts carefully, talk clearly with the provider company about the costs, and then decide.
8. Change time formats
One of the significant disadvantages of outsourcing is that your partner's agencies may differ in time and place from your business location, and programs may be out of sync with customers' expected time.
But if you choose a provider company that pays enough attention and sensitivity to this issue, this problem will not arise for you and your customers.
9. Insufficient customer focus
Provider companies may provide services to multiple businesses simultaneously. Therefore, in such situations, it is possible to reduce their focus on your organization's tasks.
Careful selection of the provider dramatically reduces these problems.
The remarkable thing
Every job has different and unique needs, wants, and requirements, and it is certainly not the same advice for all companies to use outsourcing services. But the tremendous benefits of outsourcing can not be underestimated. To avoid the disadvantages of outsourcing, make sure the ones you are considering are licensed and reviewed. Then get help from an IT outsourcing service provider with a brilliant track record, high skills, and professional and caring staff.
Choosing the exemplary service and service provider company will have tremendous benefits for your business and remove many company problems. It will also boost your business.