Downtime is not a good thing for modern organizations that need to meet their customers' needs and expectations. Various events can affect revenue or even business continuity. There may be a ransomware attack, power outage, earthquake, or simple human error, all of which are unpredictable, and the best thing to do is be prepared to deal with them.
Preparedness means that companies must have a business continuity and disaster recovery plan (BCDR), a program that has been tested and can be easily implemented.
RTO and RPO are two critical parameters that define a BCDR program. we explain to you, please remain with us.
How many downtimes can a company handle?
RTO, RPO & Co. helps companies with disaster recovery
Just not that! IT infrastructure failures. Most systems run stably today, but events that lead to hardware failures or data loss can occur at any time: malware such as "Emotet", a bland short circuit, incomplete backup or the failure of SAP system can quickly lead to compliance problems prepare or paralyze entire organizations.
Too late: If you don't have a plan for disaster recovery and business continuity, you'll be stranded.
It is clear to every IT manager that one hundred percent protection against all eventualities is impossible with a limited budget. The optimal security concept is always a compromise; each company has to decide how much security it wants or can afford. The key figures recovery time objective ( RTO ) and recovery point objective ( RPO ) are essential parameters in the determination.
Disaster recovery versus business continuity
Companies use RTO and RPO to develop an emergency plan to restore operations after an unexpected incident (disaster recovery) and maintain business continuity. Disaster recovery comprises measures that are initiated after a component failure, for example, actions to restore data or the replacement of destroyed infrastructure or hardware.
What is the Recovery Time Objective (RTO)?
Business continuity goes beyond that. The aim here is to ensure business processes are as uninterrupted as possible, not just to restore defective components. A business continuity plan primarily serves to avoid IT failures that would lead to a company's ruin. The individual tolerance limits provide critical data for this for downtimes, determined based on RTO and RPO analysis. In this way, the maximum tolerable hours for data recovery can be determined, backup data cycles can be set up, and the recovery process methods can be defined.
What is the Recovery Point Objective (RPO)?
Both indicators are similar, but they are something like two sides of the same coin. The recovery time objective measures how long a company can afford to have a system that is relevant to the business process fail. The shorter this time, the higher the security required. With an RTO of 24 hours, management assumes that the outage can be tolerated for an entire day. After 24 hours at the latest, however, the company would suffer irreparable damage.
In contrast, the recovery point objective measures the maximum loss of data a company can cope with if a critical IT system fails. The recovery point (RPO) determines the full amount of data lost in a disaster scenario. Since bits and bytes say nothing about the quality of data, this measured variable is also expressed in time units – based on the frequency with which backups are carried out.
The following applies here: The shorter the period between two data backups, the less data is lost. If no data loss is tolerable at all, the RPO is zero seconds. For example, companies that back up their data once a day at midnight would theoretically have to accept an RPO of 24 hours. If the systems were destroyed at five to twelve, you could lose 24 hours of data. However, if a company can only manage a maximum of eight hours, it must shorten the intervals between backup cycles accordingly.
Every company has different security requirements.
Assuming the RTO and RPO have been defined, another critical figure comes into play in an emergency, the actual recovery time (Recovery Time Actual or RTA for short ). RTA characterizes the time and methodology required to restore IT systems after an emergency. This value is not easily calculated, so for disaster recovery or business continuity plans. It is usually determined using an emergency or recovery exercise. As a fire brigade exercise, IT experts use simulated environments to test how long it will take the defined measures to restore damaged system environments or reconstruct lost data. The shorter the RTA, the better.
When negotiating Service Level Agreements (SLA), RTO and RPO play an essential role. However, these metrics cannot be extracted "on the fly" from a business plan or a data analysis but must be derived individually from the respective company's requirements.
RTO, for example, is highly dependent on the damaging event and the probability of it occurring. A server failure of the web system in the run-up to Christmas certainly has a different meaning for an online shop than for a corporate foundation that uses its website primarily for image and presentation purposes. It relates to the business model and the entire corporate infrastructure, not just the stored data. The definition is relatively complicated, as all IT processes have to be taken into account.
Where is the overall availability?
By the way: the availability and any downtimes in clouds or infrastructures can be easily calculated.
On the other hand, to determine the RPO, companies have to look closely at their data – the quantities, the structures, and the qualities. Estimating which data should be backed up and how often is less complicated than determining the RTO. Achieving RPO goals is sufficient to perform the data backups at the correct interval. Corresponding measures can also be automated very well.
Correctly set SLAs and business continuity strategy
Regardless of what the RTO, RPO, and RTA look like, it is essential to negotiate SLAs and develop a business continuity strategy.
The following points should be taken into account:
What are disaster scenarios likely (user errors, hacker attacks, natural hazards, theft, pandemics, other things)?
Rehearse an emergency, because when was the last time the IT system was put to the test for a worst-case scenario?
In which areas should replacement hardware be kept – Corona, in particular, has shown that replacement deliveries can also fail for a more extended time
Establishing and maintaining a regular backup strategy
The practical test of a complete restore (many companies only back up, but never test the opposite case)
Are there transition scenarios with which the time until the original state's full restoration can be bridged?
Draw up a list of priorities: Which services, departments or users have to be the
First to restart after a failure?
There is no such thing as one hundred percent security.
When planning, you should always realistically consider which measures are sensible and economically viable. Ideally, the RTO and RPO are zero, so there is no downtime and no data loss. For example, this would be technically feasible by multiple mirroring of all applications on mainframes in different data centres – but incredibly expensive. And not necessary, because not all data and processes in a company are usually equally critical. There is no "rule of thumb" for setting metrics, but it is undoubtedly advisable to review the RTO and RPO periodically.
Together with their managed service provider or qualified IT security experts, companies can design a structured response plan that can be called up in the event of an unplanned incident. Overdimensioned investments in RTO and RPO protection can be avoided if management is not guided by fear or an excessive need for security, but a realistic assessment of risks and tolerance limits. Because the same applies to IT as in real life: there is no such thing as 100% security.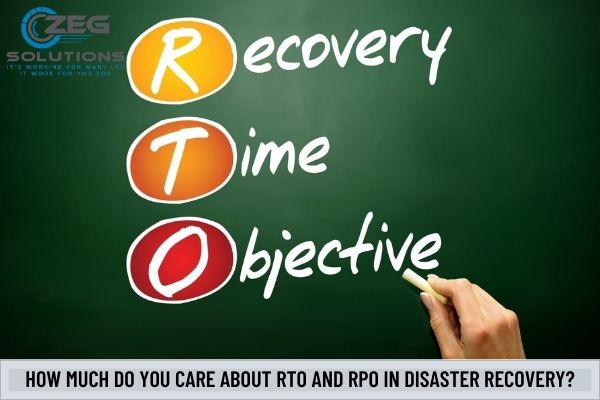 Conclusion
The Recovery Point Objective, or RPO for short, is the maximum amount of data a company can afford to lose. It also helps measure how long it should be between the last backup and the event of a disaster so that the organization does not suffer severe damage.
Recovery Time Objective, or RTO for short, refers to Downtime and indicates the time it takes to recover from a disaster until everything returns to normal.
Although RPO and RTO may seem similar, they pursue different goals, and in a dream world, these two parameters are as close to zero as possible. However, in the real world and the operational environment, the cost of zeroing these two parameters is very high and not cost-effective.
To design a BCDR program that ensures both business survival and cost-effectiveness, RTO and RPO must be considered. We must test the program to ensure that the planned schedule is effective and efficient.
At the same time, over-investing in RTO and RPO guarantees should be avoided to save costs. For example, if the RTO in your organization is 4 hours and you can now recover in 2 hours, reinvesting to reduce this time to 1 hour is unnecessary.